My fourth entry for Today's Flower is just one of the species of the large genus Anthurium that belongs to the Arum family.

Anthurium is also called as "Flamingo Flower" or "Boy Flower" because of its structure. It grows in many forms it can be bushy or climbing epiphytes (epiphytes are plants that grow upon another plant or trees).

Anthuriums flowers are hermaphrodite, containing male and female flowers about 3mm small crowded in a spike called spandix the outer portion is called spathe a modified bract that is leathery in texture. Others have mistaken the "spathe" as the flower but it is not, the flowers are solely found on the "spandix".
More Flowers @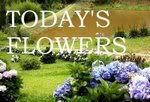 Have a Nice Day!