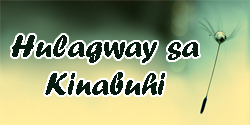 Kumusta mga higala? Maayong pag-aabot sa akong blag. Kini ang pemerong Martes sa
Hulagway sa Kinabuhi
. Ang bag-o nga meme para sa mga
Bisdak Bloggers
. Ang letra gikan sa atong alpabeto para sa unang adlaw sa HK k ang letrang "A". Ahos ang ako napili na litrato para e-share sa inyo mga Bisdak nakong higala.
Kalisod ba diay ani oi..Storya na lang kaha ta.. hehehe
The above paragraphs were written in Visayan/Cebuano a known local dialect here in the Philippines. Below is the translation.
How are you my friends? Welcome to my blog. This is the first Tuesday of "Pictures of Life". A new meme for Bisdak Bloggers (Bloggers born in Visayas or Mindanao that speak the dialect Visayan).
For the first day of this meme we are featuring letter A from the alphabet. A for Ahos (Garlic) is what I chose to share to you my friends.
Have A Nice Day!